A node by any other name . . . . . .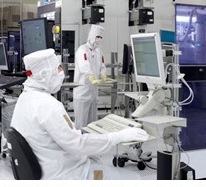 Globalfoundries agree that their node naming metric bears no relation to any measured object.
"There's nothing that's 14nm in a 14nm process, and there's nothing that's 10nm in a 10nm process," said Subi Kengeri, Globalfoundries' vice president for technology advanced architecture, at Globalfoundries' Technical Seminar in London on Monday.
Last week, Wally Rhines, CEO of Mentor Graphics, told IEF2013 that the competitive naming of nodes had become a "liars' contest".
"TSMC had a 20nm process on their technology roadmap. They asked themselves: 'What to we call it?' and called it a 16nm process," said Rhines, "GlobalFoundries have a 20nm process, they asked: 'What do we call it?' and answered: 'Ah Yes – 14nm'."
Malcolm Penn, CEO of Future Horizons told IEF 2013 that: "The current spin and hype is out of control. The industry needs to come out with a definition of what a process is."
It is, of course, entirely up to companies what they call their processes but, in a science-based industry, it's a trifle bizarre to put measurements on nodes that bear no relation to anything
2 Comments