Altera accelerates PowerPC for data centres.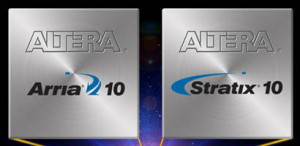 Altera has joined the IBM OpenPOWER Foundation which develops data centre chips using PowerPC Altera's FPGA-based acceleration technologies.
FPGAs provide PowerPC users with configurable hardware so reducing opex by increasing performance while using less power.
IBM and Altera have already worked together to create a coherent interface between PowerPC 8 processors and Stratix V FPGAs.
The collaboration provides developers a roadmap to use Altera's Arria 10 and Stratix 10 FPGAs and SoCs.
Leveraging the Altera SDK for OpenCL, developers are able to integrate PowerPCs with Altera FPGAs
OpenPOWER Foundation members include Altera, IBM, Google, Mellanox, NVIDIA, Samsung Electronics, Suzhou PowerCore Technology and Tyan.
Together, the companies are building server, networking, storage and hardware-acceleration technologies aimed at delivering more choices, control and flexibility to developers of next-generation hyperscale and cloud data centres.

Tags:
Altera
Related Tech News
Share your knowledge - Leave a comment