Altera launches 20nm tools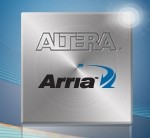 Altera has come up with development tools for 20nm IC design, based on TSMC's 20 nm process technology. The annual software subscription is $2,995 for a node-locked PC license.
The Quartus II software Arria 10 edition is for designing 20nm FPGAs and SoCs that, says Altera 'simultaneously deliver a 15% performance gain over current high-end FPGAs and up to 40% lower power than previous midrange devices'.
"For the past six months early access customers have successfully used Quartus II software to design Arria 10 FPGAs and SoCs, and today we are pleased to make this software support available to all users who want the quickest path to 20nm devices," said Altera's Premal Buch.
"Quartus II software uses leading-edge algorithms that take advantage of modern multi-core computing technologies. Architecting our software this way enables us to extend Quartus II software support to Altera's next-generation product families and continue to deliver the industry's fastest compile times," added Buch.
Quartus II users can design, simulate and compile Arria 10 FPGAs and SoCs using the software. The software release includes advanced timing models and final pin outs to enable board layout.
The Quartus II software Arria 10 edition supports multiple FPGA and SoC devices, including the largest density midrange Arria 10 device, featuring up to 1.15 million logic elements (LEs).
Arria 10 FPGAs and SoCs offer 2X greater system integration than competitive midrange devices, including up to 1.15 million logic elements (LEs), variable-precision digital signal processing (DSP) blocks with more than 3300 18×19 multipliers and integrated hard IP and the option of an integrated processor system that features a 1.5GHz dual-core ARMCortex-A9 processor.
Arria 10 FPGAs and SoCs also provide 4X greater bandwidth compared to the current generation, including 28Gbit/s transceivers, and 3X higher system performance, including support for PCIeGen3 x8, 2666Mbit/s DDR4 and up to 15Gbit/s Hybrid Memory Cube.
Arria 10 FPGAs and SoCs devices will be supported by Altera's Enprion optimized power solutions that deliver a combination of high efficiency, small footprint, and low noise performance in an integrated product.
Applications for Arria 10 FPGAs and SoCs are, says Altera, mobile backhaul by integrating the control plane processor, network processor, switches, and IO expansion into a single FPGA; broadcast and studio equipment via integrated video and image processing including 4K, 3D, and codecs; andcloud computing storage systems.

Related posts