Analysis: Broadcom's big 4G LTE play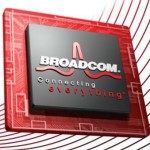 Broadcom's $164m acquisition of Renesas Mobile's LTE chip business is starting to look like a smart deal.
Reneas has something Broadcom, for all its might, does not. That is an LTE chip which is ready for volume production and, crucially, certified with mobile operators Vodafone, Orange, NTT DoCoMo and AT&T.
This gives Broadcom a much needed fast-track into the 4G LTE chipset market.
In 2011, Broadcom CEO Scott McGregor bravely told the Wall Street Journal, that the company would "close the gap" with Qualcomm in the baseband market within two years.
Broadcom now says it will introduce its first multimode, carrier-validated LTE system-on-chip device in a matter of months only.
The significance of this acceleration of Broadcom's LTE product roadmap will not be lost of rival and dominant LTE chip supplier Qualcomm.
Handset firms will also be happy to see the emergence of a possible alternative 'big name' supplier for LTE modem chips.
The deal also has some significance for the UK, as the Renesas business has a small design team in the UK working on LTE-A and HSPA+ silicon IP.
Other LTE design teams in Finland and India will also move across to Broadcom after the deal.
The 4G chipset business will not be an easy ride for Broadcom, even with the help of a ready-made dual-core LTE chip from Renesas.
Qualcomm has a strong grip on the market which will be difficult to prise apart. At the last count Qualcomm had 97% share of the LTE baseband market.
Also Broadcom's potential to find new customers will be made all the more difficult with a growing number of handset makers taking more chip design in-house.
Earlier this year Broadcom unveiled its smallest ever 4G LTE-Advanced smartphone modem.
The race is on to amongst chip suppliers to take the initiative for the generation of super mobiles which will come after this year's LTE smartphones.
The next generation will be based on the LTE-Advanced standard offering data rates up to 3Gbit/s.
Broadcom hopes to challenge the dominance of Qualcomm with this tiny multi-mode, multi-band chip which will support the next LTE-A standard as well as current protocols LTE FDD and TD, HSPA+, TD-SCDMA and EDGE/GSM.
The Renesas deal looks like a smart move to try to fulfil the CEO's prophecy .