ARM and CSR founders join Blu Wireless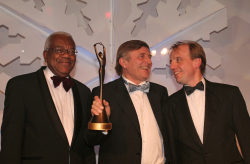 Sir Robin Saxby, founding CEO of ARM, and Glenn Collinson, co-founder of CSR, are to join the board of Blu Wireless, the Bristol wireless start up with a 60GHz band backhaul product for LTE small cell deployment.
Also joining the board is Professor Andrew Nix, head of the Communication Systems & Networks Group at Bristol University.
Blu Wireless recently secured $3 million of funding to take its HYDRA baseband chip IP to market. HYDRA uses a heterogeneous multiprocessing architecture optimised to deliver a flexible, power-efficient and low-cost implementation of these multi-gigabit communication standards.
"The deep technical and market expertise that these industry veterans bring to us gives us the strategic insights that will significantly accelerate our development cycle,"
Says Blu Wireless CEO, Henry Nurser, "their backing is a strong endorsement of both our business model and our technological offering."
Blu Wireless is about developing soft macro IP for Gigabit WiFi – WiGig, "We're selling soft macros which can be easily absorbed into customers' design flows."
"The problem was how to efficiently address multi-gigabit baseband processing," says Nurser, "a lot of people are doing hard-wired implementations but these are totally inflexible, so we set out to do something with the same power as hard-wired but significantly more flexible."
The application is backhaul for LTE small cells using the unlicensed 60GHz band to ensure low-cost for the carriers.
The technology permits 1 – 2 Gbps over 300 metres. "Our design is an ideal fit for that application," says Nurser.
BluWireless has had £270,000 in Angel funding,and three lead customers one of whom is funding prototype development. It has received £350,000 in billings so far from consultancy and from licensing some core algorithms to use in the backhaul space.
Image: Sir Robin Saxby receives the 2007 Elektra Lifetime achievement award