ARM uses Undo's reversible debugger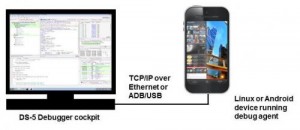 ARM is to integrate Undo Software's reversible debugger in the ARM DS-5 development suite.
Undo's debugger  can record everything that any Linux program does and then allows developers to "wind the tape back and forth" to home in on their bug. Many bugs that would otherwise take weeks to fix can be fixed in just minutes, says Undo.
Integrating Undo's debugger, reduces the cost of hunting down complex bugs in Linux systems, without the need to use external debug or trace hardware.
Undo has been funded by the Cambridge Angels group.  "They're the Cambridge elite – a great group of very knowledgeable people with deep pockets,"  Greg Law,  Undo CEO, told EW.
The first funding round was in 2012 and they've had two funding rounds in all.
Law said that customers for the reversible debugger included Lawrence Livermore for use in supercomputer programmes, NASA, and "some of the biggest banks."
The tool had taken "about 15 man years" to develop, said Law, prompted by the "need to reconstruct what happened" in writing software. "It's been a very difficult problem to solve," he said.
UndoDB will be included in DS-5 version 5.16, which is scheduled for October 2013. A free evaluation of DS-5 is available from www.arm.com/ds-5.