ASP hike for mobile DRAM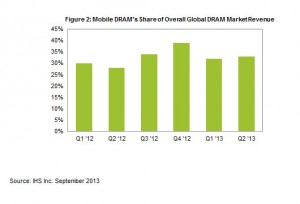 Q2 mobile DRAM sales rose to $2.8 billion, 26%up from $2.2 billion in Q1, reports IHS
Growth comprised 24% bit shipment increase and1.5% ASP increase. The ASP increase of mobile DRAM in the second quarter was not a trivial matter, even at less than 2%.
In Q1, mobile DRAM revenue fell by 14% sequentially, shipments rose 1.5% while ASPs fell 15.2%.
Mobile DRAM had 33% of the total DRAM market in Q2 – down from 39% in Q4.
"Share of mobile DRAM remained below the levels reached in the second half last year because of seasonally slow demand during the most recent period for smartphones and tablets," says IHS' Mike Howard.
Samsung's Q2 share fell 2 percentage points to 49.6%, Hynix has 24.8% and Micron had 24.4%.
.