Blu Wireless delivers 60GHz LTE backhaul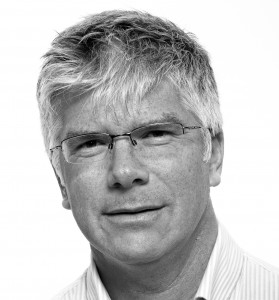 "We're all about Gigabit WiFi," says Henry Nurser, CEO of Blu Wireless, "we're selling soft macros which can be easily absorbed into customers' design flows."
Earlier this week Sir Robin Saxby, founding CEO of ARM, and Glenn Collinson, co-founder of CSR, joined the Blu Wireless board.
"The problem was how to efficiently address multi-gigabit baseband processing," says Nurser, "a lot of people are doing hard-wired implementations but these are totally inflexible, so we set out to do something with the same power as hard-wired but significantly more flexible."
The application is backhaul for LTE small cells using the unlicensed 60GHz band to ensure low-cost for the carriers. "Operators are driven by dollars – they don't want to use licensed bands," says Nurser.
The technology permits 1 – 2 Gbps over 300 metres. "Our design is an ideal fit for that application," says Nurser.
Blu Wireless has had £270,000 in Angel funding and three lead customers one of whom is funding prototype development. It has received £350,000 in billings so far from consultancy and from licensing some core algorithms to use in the backhaul space. It recently raised $3.1 million in venture money.
Having a customer was key to the funding round. "Unless you've got a customer engaged, it's pointless trying to raise money," says Nurser.
Blu Wireless is targeting four classes of customers: semiconductor companies which don't have the technology and don't want to develop it in-house; consumer electronics companies seeking to internalise their semiconductor development and don't have the history to develop IP: infrastructure equipment companies which want to license IP for their ASICs; and network operators.
Knowing the mind of your customer's customer's customer is important. "You need to know more than your immediate customer about their needs," says Nurser.
There are two main applications for multi-gig wireless:
One is high-speed data transfer for mobile platforms vis the deployment of small cells on lamp-posts which is inexpensive and reduces the loading on the network.
The second application is HDMI cable replacement. Streaming from a mobile device to a TV is seen as a mass application, though there's little financial incentive to do it.
The alternative to using 60GHz wireless is to use fibre or ADSL. Last month the US gave a boost to the use of 60GHz wireless when the FCC made modifications to its rules to: 'Enhance the use of unlicensed spectrum as a relatively low-cost, high-capacity short-range backhaul alternative to connect wireless broadband networks and for other wireless applications. These modifications could provide wireless broadband network connectivity over distances up to a mile at data rates of 7 Gb/s.' There is 7GHz of unlicensed bandwidth available.
The WiGig Alliance, to standardise multi-gigabit WiFi, was formed in 2009 to try and avoid a repeat of the UWB failure. They decided on a unified standard. "It was the only IEEE standard ever agreed on the first proposal," says Nurser.
"The key thing we are doing is we spotted an emerging market driven by leading companies," says Nurser, "WiGig is driven by Intel and Broadcom and others. Intel and Broadcom will bring out products – others would rather die than partner with Intel and Broadcom – and if they do partner with Intel and Broadcom they won't be in that position for very long. We are protecting these other guys who would otherwise be swamped by the big guys."
"When you understand there's a standard coming up which you have a way to implement better than anyone else  – that's how you add value to the industry," says Nurser, "that's the potential for a start-up – filling the gaps for large companies. We believe we've found a good niche where we have clear value-add."
"We're trying to engage with companies without going head-to-head with big competitors," adds Nurser, "we're not a threat to anyone, We're facilitators – helping people to get to market. There's a market opening to fill and there are road map gaps, it's very difficult for companies to know what IP they need."
"Our view is that we'll be intercepting the market in 2015," says Nurser, "the interoperability testing programme will not be completed until June 2014."
There's a big potential market. The 60GHz backhaul market is expected to be a five million unit market in 2017, and the small cell market is expected to be a $2.7 billion market in 2017. London will need 72,000 small cells assuming a 500 metre radius but Blu Wireless think it will be more like 300 metres.
"The general assumption is that the cost of the backhaul link is $8000," says Nurser, "we think we can do it for less than $2000. And we see how the cost could be driven down to $500.""
The technology is scalable to 20Gbps. "We can customise the IP to a particular level – that's one of the benefits of doing the design in C," says Nurser, "using C means you can focus on a system-level design."
"We thought about being a fabless company but OEMs will always be nervous about start-ups and will look for second sources," says Nurser, "the IP play is that if you can get a customer engaged, and with a licence, then they're not going to design you out."
The unique advantage which Blu Wireless has in addressing this market is its Inmosy background. "The sample rate on WiGig is 2.6 Giga-samples per second but the processor is running at a few hundred MHz so you have to parallelise, you have no choice," says Mark Barrett, Blu Wireless CMO, "the Inmos parallelised strength gives us that capability."
Blu Wireless designers have 20 years experience of parallelising processing. The CTO and four other engineers were all ex-Inmos who inherited the Inmos legacy of how to parallelise in an elegant way.
"This all about a lot of processing tasks you need to do, and you have to deal with this in a way to make them parallelised so you don't have to drive the processor so hard," says Ray  McConnell, Blu Wireless  CTO, "it's about how you can parallelise these tasks in a nice clean way, making sure the engine is always stuffed with data – not waiting around - being efficiently used."
"It's about understanding parallelised processor workloads and the efficiency of the design," adds McConnell, "it mustn't be over-flexible to be not efficient."
"Now we can make these parallel systems cheaply enough for consumers. Before, only graphics could afford parallelism," says McConnell, "and people are becoming more familiar about programming across multiple cores."
"The more parallel it is the more parts of the chip you can switch off when not being used to save power," continues McConnell, adding, "with multi-gigabit, parallelism comes into its own. A level of expertise is required in parallel system design which is mostly found in the GPU world."
The result, says McConnell, is: "Lower power and smaller area and using the transistors very efficiently so each transistor is working very hard."
"We do everything up to the point of manufacturing without doing the manufacturing," says McConnell.
Being in the IP business in the UK has its advantages. "The reputation of UK engineers is very strong internationally," says Nurser, "there's a lot of creativity in the UK in how to do things better."