Cadence speeds simulation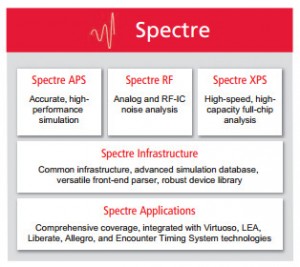 Spectre XPS (eXtensive Partitioning Simulator) from Cadence speeds up simulation while requiring two to three times less system memory.
The FastSPICE simulator allows designers to measure timing while including the impact of IR drop, fitting it for advanced-node, low-power mobile designs, where high performance, accuracy and a greater capacity for post-layout verification are imperatives.
Spectre XPS allows the re-use of models, stimulus, analysis and overall methodology, thereby reducing support costs while improving time to production.
Spectre spans SPICE, advanced SPICE, RF and FastSPICE, enabling transition across analysis and flows; it integrates into the Virtuoso Analog Design Environment for mixed-signal design, and into the Liberate MX memory characterization tool for SRAM memory characterization.
The faster throughput of Spectre lets design teams to conduct more thorough and accurate simulations for large memory-intensive designs, as well as low-power architectures that require greater visibility into parasitics.