Cambridge white-space radio firm gets funding for expansion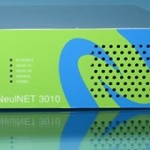 Neul has secured $5m of equity funding which will help it to develop its 'Network as a Service' (NaaS) for network operators looking to offer services starting in 2014. Neul's aim is to facilitate the so-called internet-of-things (IoT) concept, where many electronic systems interact with the web.
Neul's wireless radio systems use free white space spectrum which takes advantage of unused TV channels as we switch from analogue TV to digital TV. Signals in these frequencies can travel long distances and easily penetrate walls. This makes white space radio ideal for long-range applications that require wide-area connectivity.
"Much is promised from the Internet of Things but the missing piece has been a simple low-cost WAN connectivity solution that can finally link future endpoints to applications in the cloud," said Stan Boland, Neul's CEO.
"Many of the possible applications use Wi-Fi, GPRS, mesh or 3G communications.
"For multiple different reasons, none of these is ideal and most of the world's IoT potential remains unrealised," said Boland.
Cambridge-based Neul expects to add further limited participation to its Series B funding in the next few months and also announced its move to new premises at Vision Park in Cambridge with expansion space for increased staff.