Dialog motoring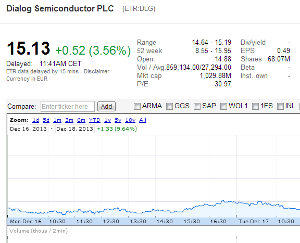 Dialog continues it's astonishing expansion with a forecast that it will have Q4 revenues of at least $310 million with a year-end annual revenue figure of around $866 million.
At the end of October it was forecasting Q4 revenues of $270 million to $295 million.
Dialog has had a meteoric rise in sales. In 2007, the company had revenues of $87 million. Last year it had revenues of $774 million and this year it is hitting $866 million.
Over 70% of Dialog's employees are engineers.

Related posts