Dialog's 16-Channel LED driver enhances TV picture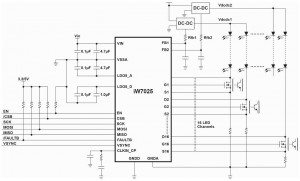 The iW7025 is a 16-channel LED backlight driver that enhances TV picture quality, offers the most extensive set of short protection features, and reduces BOM for next-generation 2D and 3D LCD TVs.
It uses external LED current sinks and up to two external DC converters (boost, buck, LLC, etc.) for the LED driver to enable easy current and voltage scaling (600mA or more per channel and Vout to 85V maximum).
Dialog's AnyMode dimming improves LED TV picture quality. It allows continuous PWM signals or burst PWM signals synchronized to the video frame at the same or higher frequency.
The PWM duty cycle can be updated in each video frame and with user-configurable tail or head delays. This provides more options to reduce motion blur and improve the contrast ratio. A built-in PLL (phase-locked loop) further ensures jitter-free operation even with a noisy VSYNC signal.
The iW7025's short detection and protection features include individual LED short, channel-to-channel short, current sink MOSFET drain-to-source short, bipolar junction transistor (BJT) collector-to-emitter short, current sense resistor short, and chip-to-chip string short protection across multiple LED drivers.
The on-board digital control engine generates the PWM wave form and manages all fault conditions, eliminating the need for MCUs. In addition to MOSFETs, it supports lower cost BJTs for further BOM cost savings.
Image: Dialog iW7025 – Typical Applications Diagram