A million Raspberry Pi computers made in the UK
A million Raspberry Pi computers have been manufactured by Sony UK Technology Centre in Pencoed, South Wales.
The computer boards have been sold by distributor element14, which partnered with Sony UK TEC.
"The strategic decision to bring the Raspberry Pi back to the UK and partner with the electronics giant Sony UK TEC has a number of benefits from bringing the manufacturing centre closer to the head office, reducing transport costs and supporting UK mass scale manufacturing," said element14.
Video: Watch a Raspberry Pi being built
According to the distributor Raspberry Pi is a global phenomenon being sold in 64 countries.
"element14 is the largest manufacturer and distributor of the Raspberry Pi globally and one of our key supplier partnerships we are delighted to work with Sony UK TEC to capitalise on the success and the popularity of the Raspberry Pi," said Claire Doyle, global head of Raspberry Pi.
"In a little under a year we have created one million units at our site in Pencoed, Wales which has resulted in us generating 40 local jobs," said Steve Dalton OBE, managing director of Sony UK Technology Centre.
"The work done by all parties has acted as a significant milestone in the UK manufacturing industry, which ultimately helps to support and grow the UK economy."
Raspberry Pi projets discussion forum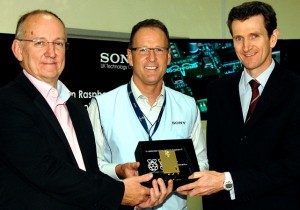 Pictured: (left to right): Jonathan Hardie (Global Head of Manufacturing, element14), Steve Dalton OBE (Managing Director of Sony UK Technology Centre), Anthony Morton (Global Asset Manager – Raspberry Pi, element14)