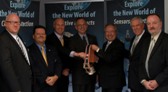 The distributor was Bourns' top performing catalogue distributor for overall percentage POS growth for European sales.
"Our partnership has developed into a strong business alliance and we are very pleased with the sales results they are delivering for us," said Ferdinand Leicher, v-p of sales Europe at Bourns.
Mouser stocks a wide range of Bourns products – circuit protectors, sensors, controls, and components. 
"We will continue to live up to this excellence award by introducing the newest Bourns products, expanding our customer base, and growing our business together," said Andy Kerr, Mouser v-p of passives.
www.bourns.com