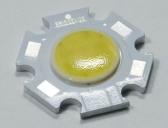 "Bridgelux is providing high power, energy-efficient and cost-effective LED solutions. Our customers will be able to use Bridgelux's technology to replace traditional lamp and luminaire technologies with solid-state products for fast growing interior and exterior application areas such as street lights, track and downlights", said Slobodan Puljarevic, President and CEO of EBV Elektronik.
Based in Livermore, California, Bridgelux is a solid state lighting (SSL) supplier targeting the replacement of traditional technologies such as incandescent, halogen, fluorescent and high intensity discharge lighting with integrated, solid state lighting solutions.
"We are very pleased that EBV has become a major channel partner with Bridgelux to support our rapidly growing customer base in EMEA," said Jim Miller, chief sales and marketing officer at Bridgelux.
"The relationship with EBV further solidifies Bridgelux's commitment to EMEA, allowing not only for faster delivery of Bridgelux products to the market, but also the availability of regionally-based applications engineering support and testing services to assist customers with new product development," said Miller.
"Their innovative product portfolio is a very welcome addition to our linecard and will add significant value to EBV's technology portfolio," said Puljarevic.