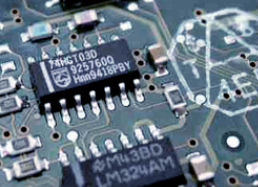 This seems to be at odds with the growing optimism about the UK economy in general.
Maybe it is unrealistic to expect that solid growth in the UK's construction, industrial and financial sectors automatically translates into growth for electronics suppliers, which now, as we know, have to compete in global rather than UK-based markets.
As a result the sales growth numbers for the electronics supply chain seem to be modest rather than sensational.
"Member confidence that faster growth in the UK and Ireland electronic components markets would be seen in the first half of 2014 did not materialise, and growth was at the lower end of the forecast range," said Adam Fletcher, chairman of the ecsn, the electronic components industry association.
The contrast with the German component distribution market is stark.  Strong Q1 growth of 8% continued in the second quarter with particularly strong semiconductor sales, according to figures for German supply chain association FBDi.
More worrying for the UK industry, the book to bill ratio went negative in June for only the third time in the last 18 months, according figures from members of distributor association Afdec.
"Our afdec members forecast a modest increase in growth into the second half of the year, which is plausible given that no significant events or increased demand drivers are currently visible," commented Fletcher.
But there is still a prospect for growth in the industry over the coming months which Fletcher expects to be reflected in the figures for July.
But in Germany too there is also nervousness about the second half of the year.
According to FBDi chairman, Georg Steinberger: "The drop in orders indicates  that the turn-over will not develop as dynamically during the second half of 2014. Nevertheless we expect that the next quarters will still be positive. In general, our industry remains optimistic about midterm growth prospects."