Digi-Key signs Intel wireless spin-out GainSpan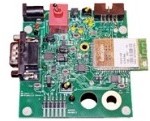 Digi-Key has added the GainSpan line of 802.11 Wi-Fi modules and software to its online linecard.
GainSpan, a spin-out of Intel, supplies chips, embedded modules and software for integrating a Wi-Fi wireless interface, with internet connectivity, into embedded systems based on most commonly-used microcontrollers.
Typical applications are used in healthcare, smart energy, and control/monitoring in industrial, commercial, and residential markets.
GainSnap's core Wi-Fi system-on-chip device consumes a few µA of standby current and goes from standby to active mode in a few ms.
"Integrating wireless connectivity has become an overreaching theme for designers today," said Mark Zack, vice president, global semiconductor product at Digi-Key. "GainSpan's low-power Wi-Fi solutions allow for simple integration into numerous applications. "
The company also offers ZigBee/Wi-Fi chips, modules and software.