Digi-Key signs power line of Sanken Electric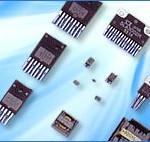 Digi-Key has added Sanken Electric Co, a supplier of analogue power semiconductors, to its online linecard.
Sanken manufactures products including ICs, transistors, thyristors, diodes, LEDs and CCFLs, as well as A/C adapters and power supplies.
"This expanded relationship will allow us to further satisfy the diverse needs of our customer base through a more focused and targeted approach," said Fumio Taku, director, North American sales at Sanken.
"We are excited to add Sanken to our expansive linecard and to expand our relationship with the Sanken Electric Co. family of companies," said Mark Zack, v-p, global semiconductor product at Digi-Key. "Their incredibly broad product selection, coupled with their stellar reputation within the industry, makes them a perfect fit for our global expansion efforts."
Applications for Sanken products include HVAC and home appliance motor controllers, automotive engine and ancillary system controllers, TV, audio, Set Top Box and other AV equipment, LED lighting fixtures, consumer and telecommunication power supplies, and medical and military equipment power management.