Digi-Key signs specialist connector line, PRECI-DIP
Digi-Key has added Swiss manufacturer of connectors and contacts, PRECI-DIP SA to its component sales website.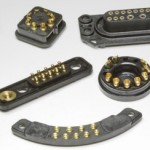 A feature of PRECI-DIP's connector products is that they are based on screw-machine contacts. It incorporates socket contacts with multi-finger clips, spring-loaded contacts. It also manufactures PCB connectors that include headers, sockets, as well as materials suitable for high-speed equipment.
"Separated components and their cam-set driven screw machines give them unique flexibility to lower MOQs, reducing product and tooling costs," said the supplier.
Tom Busher, Digi-Key v-p believes the Swiss firm's spring-loaded technology will give customers "a cost-effective and reliable solution to their mating cycle, high shock and vibration, and board-to-board connection needs."
PRECI-DIP is a vertically integrated company under one roof in Switzerland. Their mechanical engineering workshop designs and manufactures screw machines, secondary operation and assembly equipment, as well as injection mold tools, providing robust interconnect solutions used in board-to-board connection applications.
"The addition of Digi-Key as a key distributor of our products provides our customers with the ability to quickly receive delivery of PRECI-DIP parts in the USA and worldwide," said Tanguy Tronel, PRECI-DIP director of worldwide sales and marketing.