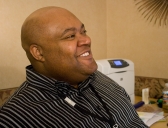 The online distributor outlined its plans for the European market, where it is seeing new business opportunities.
"Europe is a dynamic market within the electronic component space, and electronica has allowed us to gain a better understanding of how we can best serve this market by meeting with our customers and suppliers on a more intimate level," said Tony Harris, chief marketing officer at Digi-Key.
The electronica exhibition has come at an important time for Digi-Key as it moves its European online distribution business into a new stage of development.
Digi-Key has recently set up its first European sales offices in the UK and Germany.??This is an important step for the online component distributor which has steadily built its European sales over the last decade through a "virtual" business model.??This meant selling through a catalogue and website, without having the expense of a local sales force.?
?"We have decided to get feet on the ground in Europe, we will build an organisation in the UK and Germany," said Mark Larson, president of Digi-Key. ??The online distributor has seen its short-order production sales to small and medium-sized manufacturers grow significantly in the US and now it is bringing this business to Europe. 
??"The time is right to do this in the UK, we feel there is potential to grow the small order, high mix production business," said Larson.??"We believe to capitalise on the production business requires a personal level of engagement," said Larson.??
This will see the online distributor competing more than ever with volume order specialists Arrow and Avnet.
??"We have decided to take advantage of our breadth of product offering and move into the low volume high product mix production area," said Larson.
Larson believes growing the production business in Europe and also in China, through a proposed Shanghai office, will be important for Digi-Key and help drive growth in sales next year.