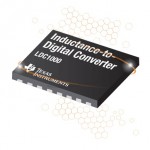 All designe ntries must use the Texas Instruments LDC1000, inductance-to-digital converter.
Inductive sensing is a contactless, magnet-free sensing technology that can measure the position, motion, or composition of a metal or conductive target, as well as detect the compression, extension or twist of a spring.
"New and upcoming technologies are a focal point for us, as many of our engineers are developing products that will have great implications in the future. This challenge gives us excellent insight into the growth potential for the Internet of Things, and we're particularly looking for projects that have implications in that space," said Dianne Kibbey, global head of community, element14.
Typical applications of inductive sensors include automobiles, traffic lights, metal detectors, medical devices, computers, a staggering array of consumer electronics and a range of automated industrial processes.
The challenge begins with a qualifying period which ends on April 14, during which potential participants submit their design ideas.
On Wednesday April 9th at 3pm GMT, element14 and Texas Instruments will lead a webinar on inductive sensing as a technology, as well as an introduction to the LDC1000 and a number of application examples for the device.
The competition will conclude on Friday, August 22, 2014.
The winner will be chosen by a vote on the element14 Community and the grand prize winner and "People's Choice" winner will each receive a 128G iPad Air.