Farnell element14 sells cadmium-free military connectors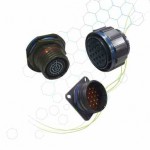 Farnell element14 is to sell Amphenol's range of black zinc nickel plated MIL-DTL-38999 connectors in Europe.
The Cadmium-free RoHS compliant connector family meets all the environmental and electrical performances of the previous industry preferred non-compliant cadmium plating.
The conductive and non-reflective black finish is claimed to have no significant galvanic reaction with cadmium, zinc cobalt or electroless nickel plated parts.
Expected to be used in applications such as electric vehicles, aerospace, power generation and metering equipment, the connector is approved for salt spray endurance of 500 hours with shell-to-shell continuity <5mΩ.
Temperature range is -65° to +175°C in accordance with Mil-DTL-38999.
"The launch of Amphenol's new range of Black Zinc Nickel plated MIL-DTL-38999 connectors reinforces Farnell element14's first to market approach to new products and technologies," said Steve Herd, global product director, connectors at Farnell element14.