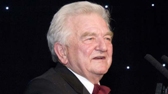 Skipworth, who defined a new way of selling semiconductors when he founded Memec in 1974, was brought up on a farm but took an early interest in electrical engineering. As a schoolboy he built a one valve radio and an electric motor.
He did his apprenticeship at British Thomson Houston with a pay packet of £2.22p a week and became an Associate Member of the IEE.
He then joined Associated Electrical Engineering designing amplifiers for radar. Part of his job was dealing with semiconductor salesmen and one of them, from Transitron, offered him a job.
At the time, he had a 1938 Morris 8, and the Transitron salesman had Ford Consul. He went for it. In 1972 Transitron made him redundant with a pay off of £280. 
He then joined a distributorship called GDS Group and shortly afterwards decided to start Memec in 1974. The company HQ was the bedroom in his bungalow. 
The whole of the first year's profit was wiped out when his entire stock was stolen.
However, the business prospered and the six year-old Memec went public in 1980 with the stock oversubscribed 58 times.
Memec expanded into Europe and, in 1985, into America. He had to go over to the US and sort this out personally after an over-expansive start. Ten years later Memec's US sales topped $1billion.
An Asian expansion in 1988 had resulted in Asian sales of $360 million by 2000.
Memec became the third largest distributor in the world.
In 1991 he sold Memec to Veba and in 2000, he bought it back for $760 million. At that time Memec's sales were topping $3 billion. Memec was bought by Avnet in 2005.
He pioneered in the UK both the concept of technical distribution and the business model of setting up people in semi-autonomous companies to expand their product lines. Many of the top people in distribution today owe their success to being given early responsibility by him.