Lime signs global deal with Digi-Key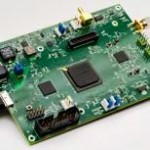 Lime Microsystems has signed a global distribution agreement with online specialist Digi-Key.
UK-based Lime's products includes field programmable RF transceivers for wireless broadband systems used for SDR, small cell, and M2M applications in a range of frequencies. A feature of the chips is that they support different wireless protocols on a single chip.
Lime Microsystems provides one of the most flexible radio designs available for customers looking to integrate into . Open source capability offers a range of software and documentation.
"Field programmable RF transceivers and open source RF boards are both novel concepts in the RF sector and Digi-Key's in-depth knowledge of the relevant markets allows our technology to be fully exploited by a wide community of designers," said Ebrahim Bushehri, Lime Microsystems CEO.
"Having a partner with such a wide portfolio of products also allows us to advance our Open Source concept, enabling users to take the freely available design files and edit them to create new designs using a vast array of components," said Bushehri.
"The flexibility of a product is paramount for design engineers, and Lime Microsystems' RF solutions offer an industry-leading ability to implement their devices into numerous applications," said Mark Zack, Digi-Key's vice president, global semiconductor product.