Military developers look for simpler design choices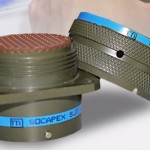 The need to be green is now an established way of thinking ion the consumer market. It has also been heavily adopted in eth aerospace sector, and now military systems are following the call.
"Sustainability initiatives, green energy and environmental regulation are part of everyday life both in a domestic setting and in the wider world," says Steve Munns, mil-aero product marketing manager at Linear Technology.
Commercial aviation has been at the forefront of efforts to use lightweight materials, improved aerodynamics and more efficient engine technology to respond to commercial pressures and tighter emission targets.
"Electrical efficiency has become increasingly important as aircraft shift from traditional air bleed systems and hydraulics to electrically-powered actuators, pumps and compressors to drive a multitude of systems," says Munns.
The result is that electrical power budgets in aircraft have steadily increased, necessitating the need for new levels of energy-efficiency.
"On-board electrical power demand has escalated over three decades from around 300kW in the B767 to more than 1.4 megawatts in the B787, making the efficiency of power conversion more critical than ever before," says Munns.
Now the military are also following the same direction and making systems more energy efficient, along with reducing weight, size and heat generated.
"Selecting components for use in military and aviation equipment includes all the usual design trade-offs and compromises, and in addition, is constrained by tough specifications for equipment survivability and rigorous qualification for use in harsh environmental conditions," says Munns.
Designers are looking for "consumer electronics" like levels of flexibility in the spec sheets of components and the flexible supply of military certified parts.
"It is important to be able to offer a high quality, flexible and fast service to meet the demanding needs of European defence, aerospace and space customers," says Thilo Pelosato, director marketing, Europe – military, aero and space at TTI.
The distributor has a European connector assembly service for the defence and high-reliability markets. The facility in Germany can assemble Amphenol and Souriau connectors covering all shells, sizes and layouts.
"We also provide a full range of complementary products – adapters/backshells, moulded parts, adhesives, marker sleeves, tubes, wire and cable and various circuit protection elements," says Pelosato.
The distributor's website has on-line data-sheets, as well as a comprehensive part number search engine to help find parts.
Designers of military and aviation applications are often encouraged to reuse proven circuits and constrained to a narrow range of products that are approved.
"It is desirable that such components are as flexible as possible so that they can be deployed in multiple applications," says Munns.
In the area of power conversion, for example, applications and requirements vary widely.
It helps if the DC-DC converter has flexibility such as a wide input range, output powers and operating frequency.
Munns presents Linear's LT8705 synchronous buck-boost DC/DC controller as an example.
"Four feedback loops are integrated to regulate the input current, input voltage, output current and output voltage," says Munns. "The input current and voltage feedback loops prevent overloading of energy limited sources while the output current loop provides a regulated output current for a battery charger or current source."
As a result the device operates over a 2.8V to 80V input voltage range and produces a 1.3V to 80V output, using a single inductor with 4-switch synchronous rectification. It can withstand the surge voltage requirements specified in MIL-STD-704 and DO-160.
Related military news
Farnell element14 sells cadmium-free military connectors
Military vehicles in high speed data connection