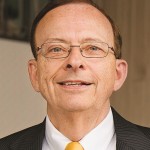 Larson said the online distribution company is now in a position to start winning short order production business in Europe, as it is already doing in the US market.
"We have the inventory. We have always had the width of inventory and now we have the depth too," said Larson. "If a customer wants several hundred components on a board we can handle it."
"We now have the infrastructure in place for handling a production business with scheduled ordering and bonded inventory," said Larson.
And the timing of this move is good. Digi-Key is seeing a measureable acceleration in sales growth in the last few months of the year in the UK and other European markets.
UK sales increased by 8% in the first nine month of the year, but in September the year-on-year growth jumped to 15%. And the jump was even bigger in Germany and Italy.
Larson believes Digi-Key can be more flexible than the big three high volume fulfilment distributors like Arrow, Avnet and Future in handling the changing order requirements of a production business.
The online distributor has changed its European business to address short-order production customers. It once prided itself on being "virtual" in Europe with no staff or sales offices.
In the last year it has opened sales offices in the UK, Italy, Germany, Poland and Stockholm. The online distributor has added five customer-facing sales staff in Europe including Central and Southern Europe, the Nordic Region, the Baltics and the UK.
There is global expansion too. Digi-Key's first sales office in Shanghai opens this month and Larson expects an office to open in Japan next year.
This is a long-term commitment for the distributor, which Larson does not expect to contribute to sales this year.
"But a year from now we will see serious incremental growth from having these feet on the ground," said Larson.
Digi-Key's core online business is based on holding stock on a wide range of products, but only holding enough stock to fulfil relatively small ordering requirements. It holds this inventory at one centre in the US and aims to fulfil orders anywhere in the world in 48 hours.
To support the larger quantities required for a production business the distributor has increased its stock holding. But it is doing this in a planned way.
"Typically we would have 1,000 pieces of a product in stock, now we have 5,000-8,000 pieces in stock," said Larson
But Digi-Key is not increasing inventory across the board.
"Basic inventory is handled in the same way and we are taking on some additional inventory risk in specific product areas so we can support 20,000 pieces per month business," said Larson.
Larson believes it will be a big benefit that Digi-Key can aggregate its inventory through a single distribution point.
Larson decided to test the production business model in Israel last year before rolling it out across Europe.
"The model is working," said Larson.