RS democratises 3D product design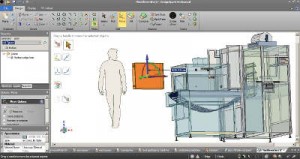 RS Components is aiming to radically simplify and democratise 3D design of electronic products with the launch of its latest free download design tool, called DesignSpark Mechanical.
RS has already made 38,000 3D CAD models of components available on its website. Now it has taken 3D product design a stage further by working with US firm, SpaceClaim, to create a 3D design tool which can be down loaded for free from its website from September 16th.
RS made the 3D CAD models available two years ago, but according to the distributor the cost and complexity of today's 3D design tools meant that "95% of our customers were not using the 3D CAD models."
It believes the availability of a free 3D design tool, which can be used to export design files direct to 3D printing processes, will revolutionise the use of 3D design in engineering departments and the education sector.
"3D design is still a marginal activity, particularly in small and medium sized companies, we want to change this," said RS.
DesignSpark Mechanical will be supported and supplied by RS Components and Allied Electronics in the US.
The tool has been designed for non-specilist use by incorporating a gesture-based modelling capability. Elements of the 3D design can also be cut and pasted and their are feature repeat and undo functions as in any graphics package.
Data files can be imported from the DesignSpark PCB design tool to create full electronics product designs from component level up to the boxed system.
It is a direct graphical modelling tool, and there are no parametric tables. Design data can be exported in a number of different formats including STL, a commonly used in 3D printing.
DesignSpark Mechanical will be available for free download on the 16th Sept 2013.