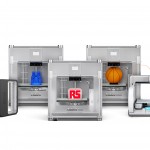 In addition to the low-cost self-replicating Ormerod 3D printing kit, developed by RepRapPro, RS has available printers and scanners from supplier 3D Systems.
The Cube 3D printer is for printing small volume parts up to 5.5-inch cubed. Cube prints in two materials, compostable PLA and recyclable ABS plastics, available in a variety of colours. It offers a choice of print mode fill density: light, medium and solid in both PLA and ABS plastics with optional easy, peel away supports for the most complex prints.
The CubeX is a desktop 3D printer for large volume printing in mono, dual or triple-colour printing up to 10.8 x 10.45 x 9.5 inches. There are several options for print modes, including a choice of accuracy: High efinition (125 Micron), Crisp Definition (250 Micron) or Standard Definition (500 Micron), and a choice of print fill density: light, medium or solid. CubeX prints in both PLA and ABS plastics, and is available in multiple colour options: the basic CubeX single colour: CubeX Duo, offering dual colour and materials; and CubeX Trio, the top-of-the range triple colour, multi-material option.
The Sense 3D scanner is a handheld terminal can scan objects ranging from 20mm³ to 3m³.
"By bringing the 3D Systems products into our 3D printing portfolio we are catering for a broader cross-section of users, spanning the consumer and professional sectors," said Ben Lawton, Global Head of Tools and Consumables, RS Components.