eASIC wins $23.5m investment to expand chip design in Europe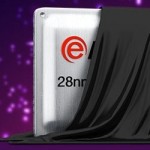 eASIC has closed a $23.5m funding round to fund expansion of its US and European development operations designing single mask adaptable Asics.
According to Ronnie Vasishta, president and CEO of eASIC, it was the performance of the wireless infrastructure and the storage market was attractive to investors, who include Khosla Ventures, Kleiner Perkins Caufield and Byers, Crescendo Ventures, Seagate Technology and Evergreen Partners.
"Coupled with several new key design wins in the high-volume automotive market drove the targeted $20m round to be oversubscribed to $23.5m," said Vasishta.
"This significant funding by leading venture firms and a strategic partner positions us well to expand our development and customer organisations," said Vasishta.
In August eASIC announced a strategic investment by Seagate Technology. The companies are exploring opportunities to jointly develop custom silicon solutions for Seagate's portfolio of solid state drives (SSD).
"As flash memory continues to evolve at a rapid pace from 2 bits per cell, 1xnm (MLC) to 3 bits per cell 1xnm (TLC) and the industry continues to adopt a wide variety of host interfaces such as PCI Express, NVMe and SoP (SCSI over PCI Express), we seek to deliver high-performance, low-cost and low-power SSD solutions for the consumer, enterprise and cloud computing," said the company.
"The demand for mass customization combined with the need for low-cost and fast time to market solutions is creating an unprecedented opportunity for eASIC to emerge as the de facto solution for custom silicon platforms", said Mike Kourey, a Partner at Khosla Ventures.