Electronics technology on view at DSEi exhibition in London
Electronic component technology on view at DSEi, the major defence and security exhibition, which will take place at ExCeL, London on 10-13 September.
Rohde & Schwarz plans to carry out a live demonstration of its SDTR software defined tactical radio on its stand (S2-240) at DSEi next week.
Intended for use in vehicles, SDTR is an open platform based on the software communications architecture (SCA) standard. Both standardised and proprietary waveforms can be ported to the radio, which enables interoperability with allied forces as required during missions.
Gaia Converter's products specifically designed for military and aerospace applications, include DC-DC converters ranging from 4W to 200W and AC-DC power conversion modules for 35W to 350W applications.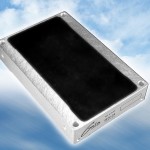 Amongst the modules on display (Stand N9-428) will be the recently introduced MGDM-200 DC/DC converter which implements a patented fixed switching topology to provide input voltage ranges of either 9V to 45V or 16V to 80V and output power up to 200W.
All Gaia products are manufactured in France.
Diamond Microwave will show it recently launched range of X-Band and Ku-Band power amplifiers.
These solid-state power amplifiers are based on GaN devices, and offer pulsed power output levels of up to 150W.
Amplifiers with pulsed power outputs in excess of 1kW, and with multi-octave bandwidths, are also under development, said the supplier.
An example of a Ku-band amplifier has a peak pulsed output power of 125W at 16.5GHz and a 1dB bandwidth of 1.5GHz in a space outline that is similar in size to a smartphone.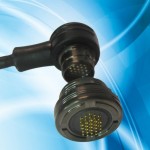 Smiths Connectors products include the recently introduced Micro SnapTac series of low-profile connectors.
Also on the supplier's stand will be the KVPX connector which is footprint compatible with VITA 46 and VITA 48 standards.
Also launched at DSEi is the IDI Dovetail rugged modular connector series which uses high-grade spring probe contacts wjochi are designed fo4r reliability in environments that include shock, vibration and extreme temperatures.
Marl International will be launching its extended range of NVIS (Night VISion Image Sensor) LED Indicators on its stand (N9-400) at DSEi.
The range of LED indicators emit NVG compatible light of NVIS radiance fully compliant with MIL-STD-3009 allowing them to be seen by operators wearing military night vision goggles. For EMC protection there is an internal stainless steel mesh behind the lens to provide continuity of screening as well as a conductive black chrome housing and panel seal.
Also on the stand will be the established Marl 677 and 677 EMC series of defence-grade LED indicators offered in red, yellow, green, blue and cool white in 12V and 24-28V versions with an internal reverse protection diode fitted as standard.
Amphenol will display at DSEi in London it new approved and RoHS compliant plating alternatives to Cadmium. The supplier offers black zinc nickel plating on its connectors and accessories including MIL-DTL-38999 and proprietary MIL-C-26482. This conductive and non-reflective finish is approved for 500hrs salt spray endurance and is fast becoming the new defence industry standard.