Europe doesn't innovate, says Frenchman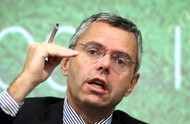 With Europe leading the world in developing next generation process technologies at ASML, and in MEMS at STMicoelectronics and in both bio-tech and nano-tech tech at Imec, it's surprising to find a European saying Europe doesn't do innovation.
Michel Coombes, the new CEO at Alcatel-Lucent, seems to be doing a good job – the company is back in the CAC40 – but he has a blinkered view on innovation.
"Innovation happens at companies in the U.S., and production happens at companies in Asia," Combes, a Frenchman, told deputies of France's National Assembly recently, "Europe is lost somewhere in the middle."
"That's odd," says Mike Bryant, CTO of Future Horizons, "I could have sworn much of the worldwide innovation in semiconductors happened at IMEC, ARM, ASML and Cambridge, assisted in no small degree by ST Agrate, Infineon Villach, Imagination Technologies, Intel Ireland and Tyndall, Lantiq, various bits of Broadcom all over Europe, M&W, RECIF, AIS, Fraunhofer, GSS and many many others."
Combes started off his career as a bureaucrat, then joined France Telecom and Vodafone.

Related posts