European equipment capex to grow 50% next year,.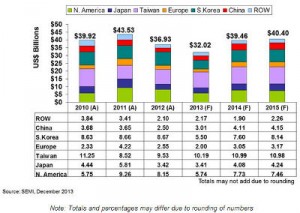 After a poor 2013, the equipment industry is looking for better times next year.
"SEMI predicts that the new semiconductor manufacturing equipment market will increase 23.2% for 2014, with another market gain of 2.4% expected for 2015," says Heinz Kundert, CEO of SEMI Europe, "while Europe as a region contracted this year (to $2.0 billion in 2013), it is forecast to increase more than 50% (year-over-year) to $3.1 billion in 2014 and $3.2 billion in 2015."
This year SEMI predicts that fab equipment spending will decline about -9% to $32.5 billion in 2013 (including new, used and in-house manufactured equipment).
Setting aside the used 300mm equipment GloFo acquired from Promos at the beginning of 2013 (NT$20-30 billion), fab equipment spending sinks further, to -11%  in 2013.
Fab equipment spending slowed in Q3 much more than anticipated. Q4 is also expected to be slower than previously thought, but will remain the strongest quarter of 2013.
After two years of decline, the 2014 wafer fab equipment market is expected to grow over 30%.  Taiwan will be the strongest spending region with over $9 billion, while Korea and the Americas will each spend at least $6 billion each, and China and Japan will each spend around $4 billion.
A growth rate of over 30% brings 2014 close to 2011 spending for wafer fab equipment. Comparing the actual spending numbers for 2014 and 2011, spending in 2014 is expected to be slightly below 2011 levels, about $39.7 billion for 2011 compared to $39.5 billion projected for 2014.
The industry has displayed a pattern for most of the past 15 years with regards to fab equipment spending: following two years of negative growth, there have been typically two subsequent years of positive growth.
In 2012 and 2013 the fab equipment market contracted, while the next two years, 2014 and 2015, are expected to be positive.
The same scenario occurred from 2008 to 2011. After 2005, just a single year of a small decline, 2006 and 2007 showed growth. The same scenario occurred from 2001 to 2004.
This pattern is not new and has been observed by many analysts.  However, over these 15 years, the industry has never experienced three consecutive years of growth or three years of decline according to SEMI database tracking.  At this point, the pattern points to expected growth in 2015, between 8 and 12 percent.  If the pattern holds, another decline will occur in 2016.
Semiconductor revenue growth is usually followed by more equipment spending, with revenue and capex typically riding the same rollercoaster.  This is not the case for 2013 as semiconductor revenues are expected to grow — although by single digits — equipment spending will not.
Positive semiconductor revenue growth led to positive growth for fab equipment spending (except in 2005), while negative revenue years led to contractions in fab equipment spending.
Industry consensus points to about 6% semiconductor revenue growth in 2013, though fab  equipment spending will contract. With the expected growth in semiconductor revenues for 2014, SEMI expects much stronger growth for fab equipment spending in 2014.
The drop in 2013 may be explained by delays in ramping next generation products and a slower pace of new capacity addition.
Across the industry, there are 40 major construction projects on-going in 2013, and 28 are predicted for 2014. Construction spending growth for 2013 is about 40%  to $7.5 billion.
By 2014, this will drop by -15 percent ($6.4 billion).  The largest construction projects already underway or expected to start soon are Samsung S3 (Line 17), Flash Alliance Fab 5 phase 2, possibly Globalfoundries Fab 8.2, Intel D1X module 2, and TSMC with four facilities.
SEMI's data support strong equipment spending in both 2014 and 2015, while construction spending is expected to decline in both years, and new capacity additions remain below 4%  in 2014 and most likely in 2015 as well.
Orders for new equipment slowly improved early on in 2013, with bookings reaching a peak by Q2 before receding in Q3.
Over this time, equipment billings, while increasing, were trending below 2012 levels. In October, book-to-bill data from both SEMI and the SEAJ show bookings are increasing once again, and this indicates a stronger Q4 for the semiconductor equipment market compared to Q3.
SEMI predicts that the new equipment market will contract 13.3%  for this year to $32 billion and increase 23.2% for 2014, with another market gain of 2.4% expected for 2015.
SEMI expects that new wafer processing equipment, the largest product segment by dollar value, is anticipated to decrease 10.7%  in 2013 to total $25.1 billion, on par with 2004 spending levels.
The forecast predicts that the market for assembly and packaging equipment will decline by 22.1% to $2.4 billion in 2013. The market for semiconductor test equipment is forecasted to decline by 20.7%, reaching $2.8 billion this year.
The "Other Front End" category (fab facilities, mask/reticle, and wafer manufacturing equipment) is expected in decrease 25.2% in 2013.
Korea, Taiwan, and North America remain the largest spending regions, though of the three only Taiwan is expected to show an increase in spending for 2013. According to SEMI, in 2013, Taiwan will reach equipment sales of $10.2 billion, with North American sales totalling $5.7 billion and Korea sales registering $5.5 billion.
Regions experiencing the steepest declines in spending in 2013 include: Korea, North America, and Europe. The equipment market in Rest of World, primarily Southeast Asia, is expected to increase 3.2 percent due to investments by GloFo and Micron. Sizable investments by Samsung, Hynix and SMIC are projected to spur growth in the China equipment market this year and the next.
Projects driving the Taiwan equipment market this year and the next include but are not limited to TSMC's Fab 12, Fab 14, and Fab 15. Inotera is also upgrading its Fab 1 and Fab 2, while Macronic, Micron, Nanya, and UMC are investing in the region.
In 2014, all regions except Rest of World are expected to have strong positive growth, resulting in a global increase of 23.2 percent in sales. 2015 sales are expected to continue to grow — increasing 2.4 percent with Europe, Japan, Korea, China, and Rest of World regions registering positive growth.

Related posts
Researchers at the University of California at Berkeley have found an intriguing application for graphene,…more »

Murata has announced the MGJ2 series of 2W dual output…more »

Texas Instruments is optimistic about the year ahead as Q1…more »

Quantum cryptography could be the star feature of your next…more »