Fab equipment spending for 2015 ended almost flat ($35.9 billion), with a slight decrease of -0.4% year-on-year.
Fab equipment spending is expected to pick up slowly in the first half of 2016, and accelerate into the second half when momentum starts to build for 2017, with a return to double-digit growth rates.
The biggest contributors to the growth are foundries, 3D NAND fabs, and companies beginning to equip and prepare for the 10nm ramp-up in 2017. Dedicated foundries continue to represent the largest spending segment. Spending for 2015 dropped slightly from $10.7 billion to $9.8 billion (-8% year-on-year), but is expected to increase by 5% in 2016 and almost 10% in 2017.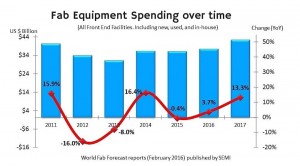 DRAM spending ranks second place after foundries. After a strong 2015, DRAM spending is expected to slow in 2016 (-23%) and increase again in 2017 by 10%.
In terms of spending growth rates, the big momentum comes from 3D NAND (including 3D XPoint). Spending doubled from about $1.8 billion in 2014 to $3.6 billion in 2015, 101% growth. In 2016, it will again rise to more than $5.6 billion (50% growth).
The increase in equipment spending is also supported by six companies, which are among the top 10 spenders globally. The six have announced plans to increase their respective capital expenditures in 2016, while the assumption for the largest spender, Samsung, is that capital expenditure will be less than in 2015.
Fab equipment spending growth for 2017 is also buoyed by new 24 facilities (excluding R&D) which began construction in 2015 or will begin construction this year. These projects are located around the world, including eight planned in China alone.