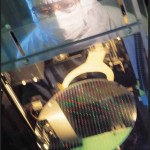 "Fabs running 200mm wafers will continue to be profitable for many more years to produce several types of ICs such as specialty memories, image sensors, display drivers, microcontrollers, analogue products and MEMS-based "non-IC" products such as accelerometers," says IC Insights.
Between December 2013 and December 2018, the share of the industry's monthly wafer capacity represented by 200mm wafers is expected to drop from 31.7% to 26.1%. However, in terms of the actual number of wafers used, an increase in 200mm wafers is forecast through 2015 followed by a slow decline through the end of 2018.
Wafers measuring ≤150mm are also forecast to increase slowly throughout the forecast period to meet the growing demand for products such as general-purpose analogue chips that can be cost-effectively manufactured on the smaller wafers.
IC Insights projects that more than 105 wafer fabs will be producing 300mm wafer fabs in 2018. This number includes pilot- and volume-production class fabs, but not R&D facilities. Also, "phases" are counted as separate fabs (e.g., TSMC's Fab 14 currently has four phases for a total of 180K wafers/month).