Koh Young Technology, a Korean supplier of automated inspection equipment, took its systems on the road last year in its first North American truck tour, titled "3D Inspection on Tour."
Andre Myny, general manager, Koh Young Europe came up with the idea of expanding the concept of a technology tour into a US road show.
Myny believes that buying off the web isn't always the right approach.
"Visiting a web site isn't enough to learn about technology that you're going to pay tens of thousands for," says Myny. "And if enough of the right people can't evaluate the equipment first-hand, they can't make a truly informed decision."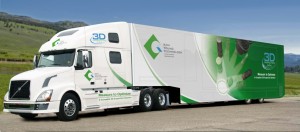 A tractor-trailer combination, using a specially-designed exhibit trailer, brought the best that Koh Young has to offer in Solder Paste Inspection (SPI) and Automated Optical Inspection (AOI) systems to 25 states throughout the continental US, plus stops in Canada, for a span of 90 days, stopping in cities where major electronics manufacturing and assembly factories are located.
The tour involved more than 60 hands-on equipment demonstration locations, or 'whistle stops'.
Although the total cost of the truck tour is nearly twice that of participating in a trade show ($300,000) for the truck tour, vs. on average $160,000 for a large booth at a show such as APEX, Koh Young Technology believes the effectiveness of the truck tour approach is far greater.
The truck tour allows equipment demonstrations to more interested customers, in a one-on-one setting, than the trade show venue allows. There are no competitors and visitors are focused on the supplier's products.
Another advantage to this approach, explains Koh Young America's managing director, Harry Yun, is that the entire chain of people involved in the approval process can evaluate the machine at the same time. "If you think about it, the typical purchasing process takes months, and also great expense, because the prospect must visit a demo facility, probably more than once, and then other people in the chain must see the machine also."
"We told people who were going to see us to bring their boards and samples if they could, and we showed them how the equipment worked on their own product when it was practical," adds Yun.
So was there a measurable commercial benefit?
"We estimated that if the truck tour could bring in 10 – 15 additional machine sales, that would pay for the tour," Yun says. "One sale was concluded right at the truck at one of the 'whistle stops'. Of course, they had been in the evaluation process for this particular machine for some time," he adds.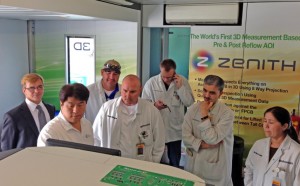 However, if you're an equipment manufacturer and think you might like to try a truck tour of your own, Myny says, it's not a simple matter, even if, in the end, it actually costs less than exhibiting at a trade show. Of course there is much advance planning involved, but you can't do it on your own, you really need to partner with a company that specializes in truck tours.
Logistics must be considered, such as how much power the machines will require to operate on site, and how that power will be generated. Local caterers at every stop must be contracted to provide food and refreshments. Specialists from the truck tour company must expand the trailer and set it up in the morning as well as close it up properly at night. A skilled driver must be employed for the duration of the tour.
Movico customised the trailer for Koh Young, a trailer that expands to three times its original width.
"If you're going to turn the trade show concept on its head, or in reverse, you have to do it right, with the right partners, and all your ducks lined up. "It has to be a complete package," Myny concludes.
Michael L. Martel, contributing editor