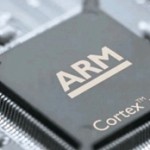 The A17 lines up with the Mali T720 GPU, the DP500 display processor and the DPV500 video processor. "We've timed the release so they line up with products that have just come out," says Ferguson.
The IP comes in the shape of hard and soft macros allowing people to choose between time to market and customisation. "Some people are passionate about doing their own graphics and that's fine," says Ferguson.
A17 is aimed at phones coming on the market in 2015.  It is designed for 28nm processing. "The most effective way of delivering IP for intermediate processing in 2015 will be 28nm with the high end rushing off  to finfets," says Ferguson, "28nm is the most cost-effective place for transistors and will stay there for some time."
As well as for phones, the A17/ Mali-T720 combination is aimed at applications such as smart TVs and Over-the-Top media devices.
"We expect to see a rich set of innovation in the mid-range mobile phone segment which is forecast to become a half a billion unit market annually from 2015 and the Cortex-A17 processor will be a key component in that growth," says Ferguson.
Why provide a different chip-set for three different phone price points instead of letting the top-end chip set drift down over time to become the intermediate chip-set?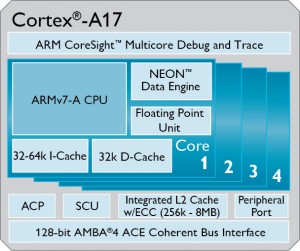 "We see a real need to drive innovation into the high, low and mid-range," replies Ferguson, "in most embedded markets there's not a market-sized opportunity to do a brand new core, but the mid-range market is 450 million units in mobiles and 140 million units in TVs and it makes sense to do an optimal core."
High-end he puts at $400+ phones, low-end at $150 million and mid-range at $150-350.
"We see the old pattern of people buying a new phone on a three year cadence clearly collapsing," adds Ferguson, "the lifetime of phones is getting shorter and shorter. There's a lot of stuff in the press about people not replacing phones, but there are lots of new sensors, and a lot of new things are happening around the phone like health-care, and these things will continue to drive the replacement cycle."
The A17 processor claims 60% performance improvement over A9 processors, enabling better power and area efficiency while supporting big.LITTLE processing.
The Mali-T720 GPU is targeted at entry-level Android devices developed to reduce an OEM's manufacturing complexities and time-to-market. It supports Open GL ES 3.0, OpenCL and RenderScript.
The Mali-V500 video processor delivers up to 4K resolution and, when combined with the DP500 display controller, enables security from content to the glass.
To help SoC designers combine their own IP in the most efficient and effective manner, ARM provides ARM POP IP implementation solutions on 28nm process technology.  POP IP for the Cortex-A17 processor includes core-hardening acceleration technology and delivers 2.0+ GHz implementations.
POP IP for the Mali-T720 GPU enables, says ARM,  best-in-class area efficiency (fps/mm2) and market-leading power efficiency (fps/mW).  It includes an RTL-GDS flow to reproduce complex implementations for a faster time to market.