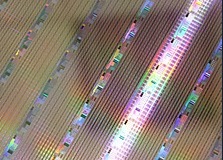 ARM gets access to MRAM blocks in sub-90nm technology which can replace traditional flash-based non-volatile memory, plus Match In Place enabled technology which enhances the security of keys and other secret data.
"This licensing agreement with ARM provides the potential to develop new industry capabilities that target next-generation embedded micro-controllers." says Crocus CEO Bertrand Cambou.
For ARM the benefit is in exposure to emerging memory technologies.
"The potential impact of emerging non-volatile memory technologies is substantial," says ARM's Vincent Korstanje, "ARM is working with Crocus to gain insight into a technology that could influence future secure devices and micro-controllers."
Crocus licenses its MLU architecture to TowerJazz and other foundries for integration in production processes.
With IBM, Crocus is developing standalone, tamper-resistant MLU-based microcontrollers.
The company is also planning, in the next few months, to market high sensitivity, low-noise, low-cost and high temperature performance (250 degrees Celsius) to consumer and industrial applications.