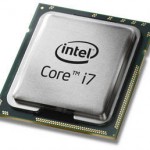 x86 will have 56% of the microprocessor market, cellphone processors will take 26%, embedded processors will be 11% of the market, tablet processors will be 6%.
'The falloff in standard PC shipments is a major problem for Intel and AMD since they have supplied more than 95% of the x86-based MPUs used in personal computers since the 1980s,' says IC Insights.
Cellphones and tablets are fuelling double-digit growth rates of MPU sales and unit shipments. The vast majority of these systems are built with mobile processors based on 32-bit CPU architectures licensed from ARM. Many MPU suppliers serve smartphone and tablet applications with the same processor platform design.
Tablet processor sales will hit $3.5 billion this year which is a 54% increase from $2.3 billion in 2012.
Cellphone application processor sales are now expected to grow 30% in 2013 to $16.1 billion from $12.4 billion in 2012.
At the start of this year, sales of mobile processors in tablet computers and cellphones were forecast to grow 50% and 28%, respectively.
Meanwhile, the larger market segment of MPUs used in PCs, servers, and embedded-microprocessor applications continues to contract.
Sales of MPUs in PCs, servers, large computers, and embedded applications will fall by 1% to $41.4 billion in 2013 from $41.9 billion in 2012, when revenues dropped 6%.
This large MPU market segment was previously forecast to rebound with sales increasing 5%, but the anticipated bounce back has been blocked by weak shipments of standard PCs, which IC Insights believes will fall by 5% in 2013 to 327 million systems.
Total MPU shipments are now expected to reach 2.15  billion devices in 2013, with tablet processors growing 62% to 190 million units and cellphone application processors increasing 11% to 1.50 billion this year.