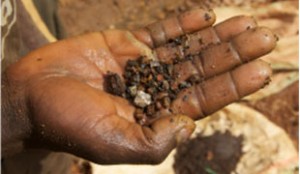 Called BOMcheck, it is intended to be used by companies all along the supply chain to both declare the status of their products and find the status of the component with which they are made.
It is the result of a collaboration between: Philips, Siemens, GE, Osram, Sony Mobile, Schneider Electric, Toshiba, Agfa, Texas Instruments and TE Connectivity, "and is currently used by over 560 manufacturers to gather materials declarations from over 3,500 suppliers worldwide for more than 1.6 million parts", said Wiltshire-based consultancy Environ – which manages the site. It also co-chairs the IPC 1752A materials declaration standard and serves as EMEA regional coordinator for the IEC 62474 materials declaration standard.
The system is supported by Swiss certification company SGS which uses BOMcheck to provide EN 50581 RoHS compliance assessment services.
Conflict minerals were mostly ignored by the industry until the US government legislated to require US-listed companies to disclose whether their products contain certain metals (tin, tantalum, tungsten, or gold) and whether these metals originate from "rebel-held mines which are funding armed conflict in the Democratic Republic of the Congo region", said Environ.
"As most SEC reporting companies prepare to file 'DRC conflict undeterminable' on 31 May 2014 for the 2013 reporting period, the BOMcheck Industry Steering Group has today launched the world's most advanced conflict minerals web database to prepare for the 2015 reporting period when large SEC reporting companies must file 'DRC conflict free' or 'Not DRC conflict free', said Environ.
There is provision for suppliers to upload their EICC GeSI Conflict Minerals Reporting Templates at part level or company level at the same time as they publish materials declarations for RoHS, REACH and other regulated substances without re-type data into another tool.
It validates the data in the supplier's Reporting Template "and provides immediate detailed feedback to help the supplier correct any data validation errors which are preventing upload", said Environ.
Works in partnership with the Conflict-Free Sourcing Initiative to validate any new smelters which suppliers identify so that they can be added to the smelter list and invited to join the Conflict-Free Smelter Program.
It will also use the EU Responsible Sourcing Regulations
Siemens has information and Philips has a video about the site.
There is a white paper.
And free webinars on March 6 at 9.00am Central European Time or 11.00am US Eastern Time to see a detailed demonstration.
BOMcheck will have a stand at the Chemical Watch Global Supply Chain Workshop in Brussels (11-12 March) and the Conflict-Free Sourcing Initiative Workshop in Brussels on (17-18 March).
One-to-one demonstrations will be available at the IPC Apex Expo in Las Vegas, (24-27 March).