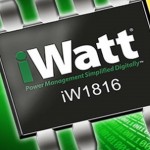 Dialog says that the acquisition increases its TAM (total available market) by up to $6 billion by 2015 by getting the company into the digital power management business.
iWatt had FY2012 revenue of $74 million (growth of 46% over FY2011) and FY2012 gross margin of 49%.
iWatt has 180 employees. Its PrimAccurate technology sells into AC/DC conversion and LED applications.