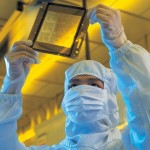 There have been indications for some time that the G450C consortium 450mm effort at Albany has run into trouble.
Then, before Christmas, Paul van Gerven wrote on Bits&Chips that ASML's effort to develop 450mm has been 'reduced'.
van Gerven said that Samsung, TSMC and Intel have not pulled out of funding 450mm but he speculates that the programme has slowed because of an intervention by them.
The intervention could be a result of a disagreement by the three companies on some aspect of the programme, or because of a slowing in the rate of funding, or a technical hitch, or something else, but van Gerven says that although the goal of having a machine by 2015/16 for production in 2018 is achievable so far as ASML is concerned – nonetheless it will be delayed unless the three backers green light it.
It looks as though the first 450mm wafers to be processed will most likely come out of the 450mm prototype line being put in at Imec using an ASML machine, but Albany is said to be planning to use a Nikon machine for 450mm and Intel may follow suit.
Meanwhile the complementary technology for next-generation wafer processing – EUV -looks like being held up because of the light-source issue. 250W is needed; 20W is deliverable. No one thinks EUV will be available at 10nm.
It seems that Albany is not even on ASML's order book for an EUV machine.
All may be revealed on Feb 7th when Imec hosts a 450mm progress report in Leuven organised by a Future Horizons and SEMI