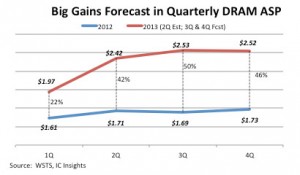 The DRAM ASP rose 42% in 2Q13 compared to the same period in 2012.  The increase followed a 22% rise in 1Q13.
IC Insights forecasts the DRAM ASP will grow to $2.53 in 3Q13, 50% greater than in 3Q12, and then taper slightly to $2.52 in 4Q13, which would represent a 46% increase compared to 4Q12.
It is not only consolidation but reduced capex which is forcing up ASPs.
DRAM capital spending as a percent of sales has dropped from 31% in 2011, to 19% in 2012, and is forecast to decline 12% in 2013.
"With little new capacity being added, the supply-demand balance is now favouring DRAM suppliers as demand (particularly for higher-priced mobile DRAM) is beginning to outstrip supply, resulting in upward pressure on prices," says IC Insights.
A third factor driving the ASP rise is the move from PCs to tablets.
Most DRAM suppliers have changed their product mix to meet the needs of the growing mobile market.  DRAM suppliers have scaled back their output of lower-priced commodity PC DRAM and transitioned to higher-priced, low-power, mobile DRAM.
Even though DRAM unit shipments are forecast to fall 8% in 2013, the DRAM average selling price is expected to jump 40% for the year.
After DRAM market declines of 25% in 2011 and 11% in 2012, IC Insights now forecasts the DRAM market to grow 28% in 2013.