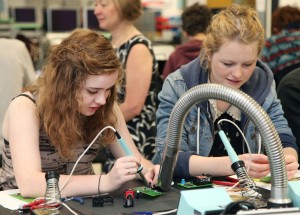 It is being hosted this year by the University of Southampton from the 7th to the 11th July.

This year 80 A-level and Scottish Higher students from 77 schools across the UK will participate in the UKESF summer school, twice as many as the inaugural course in 2011.
"We need more young people to aspire to careers in this sector, but of great concern at the moment is the decline in UK university applicants for electronics," said Indro Mukerjee, chairman of the UKESF strategic advisory board and member of the ESCO council.
"I am delighted that our summer schools are proving so popular and hope they will ignite the enthusiasm of future electronics engineers," said Mukerjee.
Whilst there has been a rise in demand for engineering and technology courses since 2002, there has been  a 26% drop in UK-based applicants to electrical engineering courses between 2002 and 2013 .
"The UK electronics systems industry is estimated to contribute £78bn to the economy with the potential to grow and generate 150,000 new and highly-skilled jobs by 2020," said Mukerjee.
In partnership with the EDT Headstart, UKESF runs a programme of summer schools encouraging school students to consider degrees and careers in electronics.
The UKESF programme also includes a scholarship scheme linking university students with employers for sponsorship and work experience. Since UKESF was launched in 2010, 174 students have been awarded UKESF scholarships by 21 companies.
The event is being sponsored by a number of world-leading companies that create or rely on electronic systems including, ARM, CSR, Dialog Semiconductor, Imagination Technologies, Jaguar Land Rover, and Thales, and the Broadcom Foundation.
The five-day course will consist of practical lab work and lectures from academics from UKESF university partners, Cardiff, Edinburgh, Imperial, Manchester, Nottingham, and York as well as the host university.
The course will be supported by UKESF scholarship students currently studying at the University of Southampton, and will feature presentations from previous UKESF scholarship students who will talk about their experience of working in the industry.
"These courses are a fantastic way for school students to learn about electronics and to encourage them into degrees valued by an industry that has a range of rewarding careers to offer," said Professor Bashir Al-Hashimi, Associate Dean for Research at the University of Southampton's Faculty of Physical Sciences and Engineering.