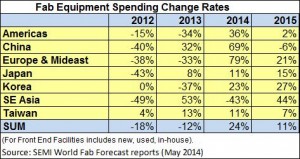 2015 may surpass the historic record year of 2011 $39.8 billion.
In 2014, the three largest regions for fab equipment spending will be Taiwan with over $10.3 billion, the Americas with over $6.8 billion, and Korea with over $6.3 billion.
In 2015, these same regions will lead in spending: Taiwan will spend over $11 billion, Korea over $8 billion, and the Americas almost $7 billion.
Although in sixth in regional equipment spending this year, the Europe/Mideast region will show the strongest rate of growth, about 79% compared to the previous year.  europe is expected to grow 20% in 2015.
Because of the increased complexity of leading-edge nodes, such as more process steps and multiple patterning, fabs experience a decline in capacity as the same fab space produces less.
Worldwide, installed capacity grew by less than 2% in 2013 and is expected to grow just 2.5% in 2014 and 3% in 2015.
Foundry capacity continues to grow at 8-10% yearly (a steady pace since 2012) and Flash is up 3 to 4% for 2014. Although DRAM equipment spending is expected to grow by 40% in 2014 as many fabs upgrade to a leading-edge process, installed capacity for DRAM is expected to stay flat or even drop 2%.