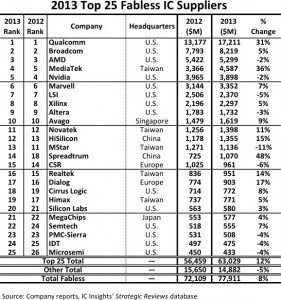 14 fabless IC companies had sales of $1 billion or more last year, the same number as in 2012.
These 14 suppliers had a combined $55.5 billion in sales and represented about 71% of the $77.9 billion worth of total fabless company IC sales last year.
The top 25 had 81% of all fabless company sales with a total of $63 billion with the "others" i.e. fabless companies not in the top 25, having collective revenues of $15 billion or 19% of the total fabless revenues of $78 billion.
Top 25 Fabless Companies
$bn
Qualcomm 17.2
Broadcom8.2
AMD 5.3
MediaTek 4.6
Nvidia 3.9
Marvell 3.4
LSI 2.4
Xilinx 2.3
Altera 1.7
Avago 1.6
Novayek1.4
HiSilicon 1.4
MStar 1.1
Spreadtrum 1.07
CSR 0.96
Realtek 0.95
Dialog 0.9
Cirrus 0.77
Himax 0.77
Si Labs 0.58
Megachips 0.577
Sematech 0.56
PMC-Sierra 0.51
IDT 0.48
Microsemi 0.43
The others, fabless companies not in the top 25, saw collective revenues decline 5% driven by four events:
• Volterra's sales went from $168 million in 2012 to $114 in 2013 due to its acquisition by Maxim in 4Q13.
• SMSC's sales went from $250 million in 2012 to $0 in 2013 due to its acquisition by Microchip in 3Q12.
• Trident's sales went from $160 million in 2012 to $0 in 2013 due to it being fully dissolved in 4Q12.
• Kawasaki's sales went from $125 million in 2012 to $0 in 2013 due to its acquisition by MegaChips in 3Q12.
The four activities shown above represented a combined $589 million in sales that was eliminated from the "other" fabless category in 2013, a significant sum considering that total sales in the "other" fabless segment shrank by $768 million in 2013 as compared to 2012.
MegaChips was the only Japanese firm in the top-25 fabless supplier ranking. MegaChips received a boost in sales from its 3Q12 acquisition of Kawasaki's semiconductor business.
There were five Taiwanese and two Chinese companies in the top-25 fabless company listing in 2013, representing 28% of the companies in the ranking (in 2008, there were no Chinese companies listed).
IC Insights expects an increasing number of Taiwan and China companies to make their way up the top fabless supplier ranking as IC design houses located those two countries continue to advance.
Ten Fastest Growing Fabless Companies in 2013
%
Spreadtrum 48
MediaTek 36
Qualcomm 31
Dialog 17
HiSilicon 15
Realtek 14
Novatek 11
Avago 9
Cirrus 8
Sematech 7
Marvell 7
In 2014, two of the 2013 top-25 fabless IC suppliers are expected to drop off the list including 7th ranked LSI Corp., which is being acquired by Avago; and 13th ranked MStar, which merged with MediaTek in 1Q14.
The two fabless IC suppliers next in line to make the top-25 ranking are Taiwan-based Phison, which had $428 million in sales in 2013; and Europe-based Lantiq, which had $400 million in sales last year.
Fewer than half (11) of the top-25 fabless IC suppliers had better results than the worldwide 2013 IC market growth rate of 5%.
Seven of the top-25 fabless IC suppliers registered double-digit growth rates in 2013 while only one company (MStar) logged a double-digit decline.
The best performing top-25 fabless IC supplier in 2013 was China-based Spreadtrum (48%). In addition to Spreadtrum, there were two other top-25 fabless companies that had greater than 30% growth last year—Taiwan-based MediaTek, and U.S.-based Qualcomm. Combined, these three companies increased their sales from $17.3 billion in 2012 to $22.9 billion in 2013, an increase of $5.6 billion, which was just $0.2 billion less than the $5.8 billion total fabless IC supplier increase in 2013. Qualcomm grew sales by $4 billion last year.
Overall, IC Insights believes that most of the large fabless IC suppliers will continue to do well and will help to drive significant sales gains by the major IC foundries (e.g., TSMC, GlobalFoundries, Samsung, UMC, etc.). Moreover, as the barriers to entry (i.e., high design costs, increasingly difficult access to venture capital money, etc.) rise, and fewer fabless companies are founded, IC Insights believes that the total fabless IC supplier listing will continue to become increasingly "top-heavy" in the future.
Given the big disparity in the 1999-2013 CAGRs between the fabless IC suppliers and the IDMs, it comes as little surprise that, except in 2010, fabless IC companies have been increasing their share of the total IC market.
In 1999, fabless IC company sales accounted for just over 7% of the total IC market. However, in 2013, fabless IC suppliers represented just over 29% of worldwide IC sales, a new record high and over nine points greater than five years earlier in 2008.
IC Insights forecasts that, in 2018, fabless IC companies will command at least one-third (33%) of the total IC market, and maybe more if additional large companies (e.g., Fujitsu and/or Panasonic) become fabless over the next five years like IDT, LSI, Agere, and AMD did in the past five years. Over the long term, IC Insights believes that fabless IC suppliers, and the IC foundries that serve them, will continue to become a stronger force in the total IC industry.