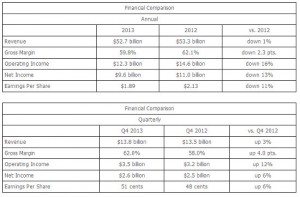 Revenue was up 2.6% from Q42012's $13.48 billion and profit was up 6.4% from Q42012's $2.47 billion.
For the year, revenues were 1% down but PC revenues were 4% down.
For Q1 the company expects revenue of $12.8 billion plus or minus $500 million.
For 2014, Intel forecast flat revenues and a gross margin of 60%.
Intel has cash of $20 billion but debt of $13.4 billion.
Intel has been borrowing money to pay the dividend. Without its high dividend Intel's share price, which has been flat for a decade, would be lower.
Intel shares fell over 4% immediately after the announcement.