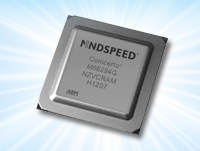 "This acquisition will extend Freescale's reach into gateways and network-attached storage at a time when both are on the cusp of advances in cloud technology, home automation, home security, and the internet of things," said Tom Deitrich, general manager for Freescale's networking group.
MACOM acquired Mindspeed late last year.
At the time, MACOM said: "Mindspeed has a communications processor business, which currently does not align with MACOM's long-term strategic focus, and therefore additional options will be explored while continuing to support its customers. Separately, in the event Mindspeed's wireless business is not sold, it will be restructured and wound down while continuing to support its customers."
With the Comcerto communications processor business, Freescale gets a series of single and multicore, ARM-based embedded processors and associated software, staff, and customers.
As part of the agreement, key members of the business will join Freescale.
The closing of the transaction is subject to 'customary closing conditions' and is expected in Q2, 2014. Terms of the deal were not disclosed.
There are three product ranges:
Comcerto 100 series of devices for residential, small office/home office (SOHO) and small-to-midsize businesses (SMB) and enterprise networks. "The 100 series speed the delivery of broadband 'residential gateway' and 'office-in-a-box' customer premise products.
Comcerto 1000 application include high-end VoIP enabled home gateways, small-to-midsized business security appliances and Ethernet powered 802.11n enterprise access points.
Comcerto 2000 devices have one or two ARM Cortex-A9 cores and are intended for switching, routing, security, multi-service gateways, enterprise class wireless access points & controllers, network attached storage and Voice-over-IP (VoIP) applications for residential, enterprise and networking equipment for small and medium businesses. Comcerto C2100 and C2200 with single-core and dual-core 1.2GHz .
"Through intelligent offloading, the Comcerto 2000 range supports wire rate Gigabit-per-second IPv6 NAT and firewall applications without utilising the ARM Cortex processors keeping them fully available to run value-added applications from OEMs or service providers," said MACOM. "This allows customers to differentiate their services. For example, in wireless enterprise access points for dual-band, multi-radio 802.11 ac, the system can offload Wi-Fi and protocol packet processing while ARM Cortex processors are available to run enterprise class services such as policy, authentication and roaming."
MACOM bought Mindspeed to get its SiGe technology, amongst other things.
"Mindspeed's leadership in SiGe-based products, along with its position in enterprise video and metro markets, complements our position in long-haul modulator drivers based on InP and GaAs. This will position MACOM as a leader across 100G segments, physical layer products, and requisite technologies enabling us to capitalise on the expected build-out of the 100G optical market," said MACOM CEO John Croteau last year. "This acquisition will diversify our served markets to include enterprise applications, while also enabling MACOM to strengthen our core RF and microwave position with SiGe technology."