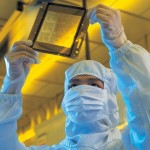 December sales saw a sharp rise over November at $1.65 billion -12% up on November's $1.47 billion which were a 14.4% drop from October's $1.76 billion.
TSMC's October revenues were down 6.5% on its September revenues of $1.88 billion.
TSMC had revenues of $1.86 billion in August up 5.7% on July's $1.74 billion, but down from the $1.77 billion of June. May sales were $1.73 billion – a slight rise on April's $1.7 billion.
TSMC's shares dropped neatly 3% before the results announcement on rumours that Chairman Morris Chang had died. Chang then appeared at a meeting in Taiwan to scotch the rumours.
UMC had Q4 2013 sales of $1 billion, down 8% from Q3, and annual revenues of $4.1billion.
UMC had November revenues of $350 million and October revenues of $355 million.
UMC had September revenues of $340 million, August revenues of $371 million, July revenues of $386 million, June revenues of $368 million, May revenues of $361 million and April revenues of $336 million.
UMC's 2013 annual revenue of $4.1 billion compares to $3.53 billion in 2012.