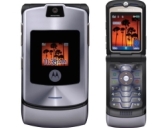 The $12.5bn deal is the biggest takeover in the mobile phone market for a number of years and with Google's influence in Internet-based software and services could radically change the mobile phone market.
The link between the businesses is Google's Android mobile operating system, which is becoming an important OS for the latest generation of smartphones.
Motorola has developed mobile phones based on the Android OS, which was developed by Google.
The deal gives Google, a software company, a mobile hardware business for the first time.
It will need to avoid any conflict of interests with some of its biggest Android licensees – mobile phone firms like Samsung and HTC.
Google will run Motorola Mobility as a separate business.
"Motorola Mobility's total commitment to Android has created a natural fit for our two companies," said Larry Page, CEO of Google.
Page believes the deal has the potential to "supercharge the entire Android ecosystem".
Motorola had been looking to sell the mobile phone business for a number of years.
"This transaction offers significant value for Motorola Mobility's stockholders and provides compelling new opportunities for our employees, customers, and partners around the world," said Sanjay Jha, CEO of Motorola Mobility.
According to Andy Rubin, senior v-p of the mobile business at Google, the acquisition will not change the company's plan to keep Android open.
"Our vision for Android is unchanged and Google remains firmly committed to Android as an open platform and a vibrant open source community," said Rubin.
The transaction is subject to customary closing conditions, including the receipt of regulatory approvals in the US, the European Union and other jurisdictions, and the approval of Motorola Mobility's stockholders.
The transaction is expected to close by the end of 2011 or early 2012