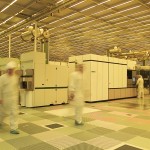 This investment in an Indian mega-fab would seem to throw cold water on this move.
India's government at approved the building of two semiconductor wafer fabs by a group of chip firms including IBM, TowerJazz and STMicroelectronics.
IBM remains a key source of manufacturing technology for many companies, so a suggestion that it may pull out of the business sent a shockwave through the industry earlier this month.
It supplies manufacturing process technology to half the world's major companies: Samsung, Globalfoundries, UMC, STMicroelectronics, Renesas, NEC, Freescale, Toshiba and Infineon.
The Indian investment does not preclude the possibility that IBM is reviewing its chip-making strategy. The Indian deal would have been some time in the planning and the new fab will become another asset in IBM's chip-making business, making it more attractive to a buyer or partner.
But outright sale of the semiconductor manufacturing business by IBM seems less likely now.
India seems set in its plan to grow a chip-making powerbase to rival China and even Taiwan. In the past it has struggled to attract big name chip firms. So this new deal is being seen as a major prize.
IBM and TowerJazz will partner India's Jaiprakash Associates to build a $5.5bn fab near New Delhi.
Interestingly, foundry TowerJazz has been suggested as a possible partner or buyer of IBM's chip making business.
The second $4.6bn fab in western Gujarat will be built by Malaysia's Silterra and STMicroelectronics with local company HSMC Technologies India Private Ltd.
The final agreements for the two plants are expected to be signed by August.
India's government is offering a 25% subsidy on capital spend, tax breaks, and interest-free loans of around 51.24 billion rupees on each fab.
India's technology industry has been under pressure and has been affected by the falling dollar, the slowdown in US spending, rising labour costs, and low-cost competition from places like Vietnam, the Philippines and Eastern Europe.
However, Indian companies are looking to produce more products of their own and rely less on out-sourcing which still accounts for 84% of Indian technology output.